Carbon Monoxide
CARBON MONOXIDE TESTING
 Marko E. Vovk is one of the few inspectors in the state of Ohio that is certified in carbon monoxide and combustion testing. He was trained the National Comfort Institute and is now a Certified CO and Combustion Analysts # CO415106. Ambassador can come to your home and test all your gas, oil, and propane appliances. Ambassador is one of the few inspection agencies in Ohio that uses and understands the combustion formula. (At the end of the page, we will provide a small sample of this formula.) Simply stated, Marko E. Vovk can tell you in just a few minutes what is exactly wrong with your appliance.
FACTS
hspace="10″ vspace="5″ />Did you know that 95% of all furnace personnel have no clue about combustion testing or even what the values mean? These people come to your home with a vacuum cleaner and a can of oil. If your furnace man does not have a calibrated combustion analyzer, send him home.

Did you know that over 95% of all home inspectors have no clue about combustion testing or even know what the values mean? Furthermore, their idea of a carbon monoxide test is turning on a CO meter and testing a register. Testing a register tells you nothing about your combustion appliances.

Low-level CO poisoning leads to many other health problems. Doctors misdiagnose most CO related illness. Doctors do not perform autopsies on most 

deceased elders. Elder people are retired and usually stay at home. The CO accumulates slowly and they become low-level CO poisoned.

Did you know that you could test yourself quickly to see if you have been poisoned by carbon monoxide? Simply get a grocery store plastic bag. Blow into it and fill it up. Place one of our low level CO meters into it. Wait a couple minutes and read the results. If you are a smoker, it will read about 10-30 PPM of CO. If you are a non-smoker, and it reads 30 PPM, you have low-level CO poisoning. Please contact Marko E. Vovk for your low-level CO detector.

Did you know that most CO detectors in homes are high-level units? Additionally, they are installed near the floor, which is a wrong location. When they go off, people call the fire department and open 

the door waiting for the fire department. When the fire department arrives, the air is clear and the firefighters tell you that you have a bad CO detector. You close the door and start being poisoned again. You become ill, and your doctor gives you some type of prescription.

You need to place the CO detector at breathing height. You need to replace your high-level CO detector with a low-level CO detector. These units are a bit more expensive and can cost $119 – $129. You can buy these units from the internet or our store. If you choose to use the internet models, be careful. Some claim to be low level and are not. You want a 

unit that reads down to five PPM, not 40 or greater PPM. The unit you presently have reads 70 PPM or more. At this level, you have already been poisoned. Please go to our 

Carbon Monoxide Detector

 page for detector details.

It is estimated that 30,000 people actually die of CO and 3,000,000 people become poisoned by CO yearly. (Data from Marko Vovk's notes from the NCI CO 3-day seminar 12-19-04. )

Did you know that when the fire department comes to your home to test for CO they do not perform a combustion analysis and will most probably misdiagnose your problem?
WHAT CAUSES CARBON MONOXIDE:
Carbon monoxide is produced by the incomplete combustion of the fossil fuels. Wood, oil, coal, and gas are used in boilers, furnaces, hot water heaters, ventless fireplaces, engines, oil burners, gas fires, solid fuel appliances, and open fires.
Dangerous amounts of CO can accumulate in your home due to poor installation, poor maintenance, poor drafting, depressurization, damage to an appliance in service, fuel not burned properly, or when rooms are poorly ventilated and the carbon monoxide is unable to escape.
WHAT ARE SOME SOURCES OF CARBON MONOXIDE?
Unvented kerosene and gas space heaters; leaking chimneys and furnaces; back-drafting from furnaces, gas water heaters, wood stoves, and fireplaces; gas stoves; generators and other gasoline powered equipment; automobile exhaust from attached garages; and tobacco smoke.
WHAT ARE SOME VISUAL SYMPTOMS OF CARBON MONOXIDE?
Absence of an upward draft in your chimney.
Excess moisture found on windows, walls, or other cold surfaces.
Excessive rusting on flue pipes, other pipe connections, or appliance jacks.
Orange or yellow flames (should be blue) in your combustion appliances.
Smoky smells. Do not assume your fire alarm works.
Fallen soot in the fireplace.
Small amount of water leaking from the base of the chimney, vent, or flue pipe.
Damaged or discolored bricks at the top of your chimney.
Rust on the portion of the vent pipe visible from the outside.
Streaks of soot around fuel-burning appliances.
You feel better when you are away from your home.
Several people in the home get sick at the same time (the flu is usually passed from person to person).
The family members who are most affected spend the most time in the home.
Symptoms occur or get worse shortly after turning on a fuel-burning device (furnace, oven, and fireplace) or running a vehicle in attached garage.
Indoor pets also are ill. (Human flu viruses are not transmitted to pets.)
You do not have generalized aching, low-grade fever, or swollen lymph nodes. (These are typical of a cold or flu.)
Symptoms appear at the same time as signs (described below) of inappropriate ventilation, maintenance, or operation of fuel-burning devices.
THESE ARE SOME STEPS TO REDUCE CARBON MONOXIDE:
Keep gas appliances properly adjusted.
Consider purchasing a vented space heater when replacing an unvented one.
Use proper fuel in kerosene space heaters.
Install and use an exhaust fan vented to outdoors over gas stoves.
Open flues when fireplaces are in use.
Choose properly sized wood stoves that are certified to meet EPA emission standards. Make certain that doors on all wood stoves fit tightly.
Have a trained professional inspect, clean, and tune-up central heating system (furnaces, flues, and chimneys) annually. Repair any leaks promptly.
Do not idle the car inside garage. Do not back your car into your garage.
Do not put your furnace in your garage. If you have no choice, make sure this unit is balanced and return ducts are 100% sealed. If the return ducts are not sealed, they will suck the fumes from your garage.
Your AC can kill you if it is leaking inside your furnace
HESE ARE SOME ADDITIONAL QUESTIONS TO ASK CONCERNING CARBON MONOXIDE:
When did your carbon monoxide symptoms or complaints begin? Are they new or have they existed for a long time?
Does the symptom or complaint exist all of the time or does it come and go?
Is the symptom associated with a particular location or time of day?
Is the symptom seasonal in nature?
Does the complaint lessen, i.e. your health improves after you leave a certain place?
Are the symptoms associated with a change of workplace or living locations?
Does anyone else in your house or building have similar symptoms or complaints?
Have pets become sick, died in the house, or died in a living space?
 Is the symptom associated with the use of any heating or cooking equipment?
Do you have an attached garage? Do you warm up your car in it?
Are you a smoker or are you around smokers during times of your discomfort?
Is charcoal being burned indoors in a grill, fireplace, or other cooking device?
Is there an odor present when heating, cooking, or other combustion appliances are in use?
What types of combustion equipment are in use?
When was the last time the combustion equipment was serviced?
Does any of the combustion equipment seem to be dirty or in disrepair?
Has a smoke or carbon monoxide alarm sounded in the house / building recently?
WHAT IS WRONG WITH THESE PICTURES?
| | |
| --- | --- |
| | |
The client's cigarette smoke travels to the left. This new furnace has no cold air return connection. The furnace filter is on the right of the photograph where the arrow points. When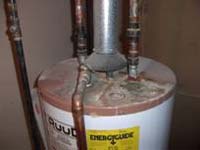 the furnace turns on, this filter sucks air from this closet and from the water heater flue. The water heater flue is the make up return air for this furnace. Air is sucked down the chimney for the rooftop. This air travels down the chimney and down the water heater flue every time the furnace is turned on. The water heater has no draft as seen on the draft gauge in the upper photo. Carbon monoxide levels produced from this water heater were 3,000 PPM. A plumber came out to this home to make repairs. He said a dead bird in the flue was the problem. These clients thought the problem was fixed after this plumber removed the dead bird. The reason the bird was dead was because the chimney had no screen. If you were a bird in a confined flue space that had 3000 PPM of carbon monoxide, you would die too. The plumber's office called to inform me the plumber was a master plumber and he knew what he was doing; after all, he had been doing this line of work for 40 years. When we ask about the combustion readings from his calibrated combustion analyzer and draft gauge, the office personnel did not know about these gauges or the testing process.
MORAL OF THE STORY
Your furnace man or plumber may not be properly trained. They probably are not certified in carbon monoxide or combustion analysis. Many of these contractors are misdiagnosing major problems that allow people to become carbon monoxide poisoned.
RIGHT ANSWER ABOUT THE ABOVE CONDITION
The new furnace is not properly installed, is not balanced, and is missing a cold air return. The new furnace and hot water heater do not have proper make up or combustion air. The hot water heater flue has poor draft. The hot water heater room is depressurized causing major problems. The gas regulator is not properly adjusted. The chimney lacks screens and caps. The dead bird in the chimney is not what caused the carbon monoxide problem. The dead bird in the chimney is the result of the carbon monoxide problem.
CARBON MONOXIDE
THE MORE TECHNICAL SECTION
SOME OF THE COMBUSTION FORMULAS THAT WE USE FOR YOUR DIAGNOSTICS. (Not all are present on this web site)
CONDITION
PROBLEMS

CO PPM

CO ACTION

OXYGEN ACTION

TEMP.

DRAFT NCI #CO 415106

BURNERS AFFECTED

 ASSESS METHOD

OVERFIRED

OVER 100

STABLE

STABLE-LOW

HIGH

NORMAL

SELECTIVE

MEASURE

UNDERFIRED

+100 OR 0-10

STABLE

STABLE-HIGH

LOW

NORMAL

SELECTIVE

MEASURE

VENTING

RISING

RISING

FALLING

NORMAL

HIGH

SELECTIVE

MEASURE

COMBUSTION
AIR

RISING

RISING

FALLING

NORMAL

LOW

ALL

MEASURE

ALIGNMENT

OVER 100

STABLE

STABLE

NORMAL

NORMAL

SELECTIVE

VISUAL

DIRT OR RUST

OVER 100

STABLE

STABLE

NORMAL

NORMAL

SELECTIVE

VISUAL

MECHANICAL

OVER 100

STABLE

STABLE

NORMAL

 

NORMAL

 

SELECTIVE

 

VISUAL

 
AMBIENT LEVELS 
NO CO ALLOWED FORM VENTED APPLIANCES
1-9 PPM IS OK AND NORMAL    NCI #CO 415106
10-35 PPM ADVISE OCCUPANTS AND CHECK SYMPTOMS
36—99 PPM RECOMMEND FRESH AIR CHECK
100+ PPM EVACUATE, CHECK SYMPTOMS AND CALL 911
EQUIPMENT LEVEL MAXIMUMVENTED GAS START UP 400  PPM, RUN 100PPM AND STABLE, SHUTDOWN MUST DECREASE 
OIL  START UP 100 PPM, RUN 100 PPM AND STABLE, SHUT DOWN 100 PPM
UNVENTED START UP 400 PPM, RUN 30-50 PPM AND STABLE, SHUTDOWN MUST DECREASE NCI #CO 415106
COMBUSTION EFFICIENCY STANDARDS  OXYGEN STABLE6-9% RESIDENTIAL (GAS ATMOSPHERIC, INDUCED DRAFT.) 
4-6% OIL AND GAS (POWERED BURNERS) 
3-6% COMMERCIAL GAS ATMOSPHERIC 
3-6% COMMERCIAL (GAS AND OIL POWERED BURNERS)
FLUE TEMPERATURE HIGH FIRED  MINIMUM75%   EFF    =  270 + AIR, WATER, STEAM TEMPERATURE (415-515)
80+% EFF    =  170 + AIR, WATER, STEAM TEMPERATURE (302-402)
90+% EFF   = 100-130      (MINIMUM GROSS) (120-140) COMMERCIAL             ALMOST THE SAME (ADD 75-100 FOR BOILER)
90+% EFF = 100 + AIR, WATER, STEAM TEMPERATURE WATER HEATER             FLUE TEMPERATURE (390 F – 510 F)
FURNACE CFM AND TEMPERATURE RISE (AVERAGE)
75%EFF=100CFM per 10,000BTU input
Plenum Temp = Return Temp + 75 degrees (145-155)
80%EFF=130CFM per 10,000BTU input
Plenum Temp = Return Temp + 61.5 degrees (132-142)
90%EFF=150CFM per 10,000BTU input
Plenum Temp = Return Temp + 60 degrees (130-140)
COMBUSTION AND CO DIAGNOSTICS O2  LESS THAN 6% =OVERFIRED (CO 100+)O2   6-9% = OK (CO < 100 AND STABLE)
O2   OVER 9% = UNDERFIRED (CO 0-10 OR 100+)   FLUE TEMP
75 % <270 DIFF UNDERFIRED >370 OVERFIRED OR POOR TRANS.
80 % <170 DIFF UNDERFIRED >270 OVERFIRED OR POOR TRANS.
90 % <100 DEG. UNDERFIRED >140 DEG. OVERFIRED OR POOR TRANS.
Draft standards functional flue test  must be -.01 wc to -.02 wc less than -.01 wc
 means restricted flue or negative room pressure or low flue gas temp. 
More than -.02 wc means
 door curtain or eddy currents.
 Flue interference—- 
blower operation, dryer operation, kitchen or bath exhaust, fireplaces, opening and closing windows, wind, or other venting. If any of the above affects draft, corrective action is required.
| | | | | | | | | |
| --- | --- | --- | --- | --- | --- | --- | --- | --- |
|   | DESIGN | TEST |   | DESIGN | TEST |   | DESIGN | TEST |
| CO |   |   | CO |   |   | CO |   |   |
|  O2 | 6-9 % |   |  O2 | 6-9 % |   |  O2 | 6-9 % |   |
| FLUE GAS TEMP |   |   | FLUE GAS TEMP |   |   | FLUE GAS TEMP |   |   |
| SUPPLY AIR TEMP |   |   | SUPPLY AIR TEMP |   |   | SUPPLY AIR TEMP |   |   |
| FLUE DRAFT  WC | .01 – .02 |   | FLUE DRAFT  WC | .01 – .02 |   | FLUE DRAFT  WC | .01 – .02 |   |
SOME PROBLEMS THAT WE WILL DIAGNOSE WITH YOUR COMBUSTION APPLIANCES.
DIRT, RUST, SOOT OR DEBRIS PROBLEMS:
Dust, rust, soot or other debris can cause impingement of the flame in the burners. Impingement of the flame in the burners can cause high carbon monoxide during the run cycle. This condition may cause too much air or fuel, which will cause the flame to make contact with surfaces within equipment and not allow it to burn completely. Not enough air or fuel can cause combustion to take place inside or too close to the burner.
ALIGNMENT PROBLEMS APPLY TO ATMOSPHERIC BURNERS.
Alignment problems will cause high carbon monoxide problems. Generally, three main problems can exist. The first is the cross over is not aligned or restricted. (This is the bar that keeps the burners level and straight.) The second is the burners are not properly elevated. (They must be elevated with proper brackets on the back end.) Finally, the burners do not have proper alignment. (The flame should not be burning on sides, rolling or flickering. The flame should me nice and straight. Remember, you do not want the burners to contact surfaces.) The cross over bar can also be restrictive with spider webs. You should watch this during the first light of phase. Make sure the ignition is smooth. If you are using propane, the burners should not be level and sloped downward as they travel to the back of the furnace. Gas burners should be level. The dampers in front of the burners must be totally open for gas-fired systems. If they are closed, they can cause improper deflection of the flame, impingement, and air restriction to the burners.
MECHANICAL PROBLEMS: Old equipment can wear out, rust out, and deteriorate. New equipment could be damaged during installation and shipment. Cracked heat exchangers can be considered mechanical problems. These conditions readily cause carbon monoxide problems. Unfortunately, 99% of heating professionals claim the cracked heat exchangers are the biggest problem. They make these claims because they do not know any better. Oil furnaces could have an oil nozzle in the wrong position, partially restricted, or damaged. Improper nozzle size, leaking fittings, bad pump seal, loss of prime, etc. are other mechanical problems associated with oil furnaces.
VENTING PROBLEMS: Proper venting is necessary to assure that complete combustion can be maintained. Smoke testing the draft hood or diverter only verifies room air is entering the flue or chimney. Proper venting of flue gas depends on having the proper draft. If you have low draft or high draft, you can have a major problem. Your draft must be between .01 – .02 inches or water column. Most furnace repair people do not have a draft gauge or even know how to operate one.
OVERFIRED PROBLEMS: Overfired units simply do not have enough air supplied to the proper combustion. Overfired units can also have a mechanical failure. This is a difficult problem to understand. Information is needed from your combustion analyzer. Taking readings of O2, CO2, stack temperature, and draft are all necessary to determine if overfired condition exists. Orifices, gas pressures, linkages, nozzles, and draft can all be corrected after you obtain all the necessary information. A gas pressure or orifice problem usually exists when you have an overfired problem.
UNDERFIRED PROBLEMS: Underfired problems exist when systems are oversized. Underfired problems also exist when dirty flames cannot be corrected. Many times, you can adjust your gas regulator.
COMBUSTION AIR PROBLEMS: We need to follow code requirements to verify sufficient combustion air to the appliance, but unfortunately codes are prescriptive-based as opposed to performance-based. A home is a complicated system with an array of networks. Sometime the engineers come up with codes on combustion air and do not consider all things. Experience and education will help you completely understand what sufficient combustion air is needed. One quick and easy way to verify sufficient combustion air intake according to a BACHARACH web page is to fire up the heating system with the home under normal winter heating or summer air conditioning operation (i.e. all doors and windows closed), and allow the readings on your combustion analyzer to stabilize. While watching the O2 or CO2 and CO readings, open up a door or window from the mechanical room to the outside. Should any of the readings change, there is a problem. Obviously, a door or window should not be controlling the combustion process. A change in the readings may not tell you exactly what the problem is, but can be useful in narrowing down the possibilities.
HEAT TRANSFER PROBLEMS: when you take a 1-1/4 inch pipe and put a lit candle under it, the pipe will burn your hand. When the candle is put under a one ¾ inch pipe, the pipe will be cold. The burners in the heat exchanger need to be exact and properly igniting. The amount of soot in the heat exchanger will also affect heat transfer. The more the soot, the more the fuel consumption. In water heaters, the more the scale, the more the fuel consumption. IMPINGEMENT: fuel is too high or too low, air is too high or too low, burners are not aligned, the burners are elevated from the front to the back, the blower motor distorts the flame, the heat exchanger has failed, air has leaked into the oil pump, the oil pump is not properly operating, the nozzle is not proper, the diffuser is cracked, the flame cone is cracked, the burners are not properly centered, the burners are restricted with debris, the unit has other mechanical problems, and more. As a combustion analysis, you only need to state the unit has an impingement problem.
POOR FUEL AND AIR MIXTURE: Pressure or office problems will cause underfired conditions. Pressure of restriction problems will cause underfired conditions. Not enough air will cause combustion problems and drafting problems. Too much air will cause drafting problems.
POOR PILOT: The pilot size could be wrong. The gas pressure could be wrong. The pilot could be in a bad location. The pilot could privately shut down or have excessive mixture in the gas pilot light.
POOR SPARK OR HOT SURFACE IGNITION: Poor location of intone equipment, bad transformer, bad control, cracked igniter, cracked transformer, or poor gap size of ignitions electrodes.
The following resources were used to provide some of the information on this web page.
1. EPA
2. NCI (National Comfort Institute Avon Lake Ohio)
3. Bacharach
4. Ambassador Construction Consultants Inc.
5. Marko Vovk's research files
If you would like to schedule a carbon monoxide evaluation or if you are a heating professional and would like an in-house training course, please call Marko E. Vovk at 216-924-8378.