MARKO VOVK PERFORMED 911 GROUND ZERO FORENSIC DUST TESTING in 2006.
MARKO VOVK PERFORMS DUST TESTING, DUST ANALYSIS, FORENSIC TRACE TESTING AND DUST RESEARCH WHEN NEEDED. PLEASE CALL MARKO AT 216-924-8378 CELL.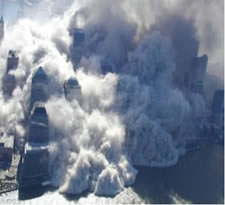 Dust can cause cancer, asthma, and even death. We worry about radon, mold, asbestos, lead, EMF's, and disgruntled postal workers with guns. We need to start worrying about dust. Depending on where you live and how you live, will depend on the contents of your homes dust. Dust can also last centuries if not cleaned. We recently found lead dust in a vented attic in a Cleveland suburb. The lead smelting factory that once produced lead 40 years ago was located over ¼ mile from this home. The children living in this area were still being lead poisoned 40 years later. Recently, on 9-9-06, we were employed to inspect a MULTI-MILLION DOLLAR condominium in New York City. Our clients wanted us to inspect a two-story penthouse and tell them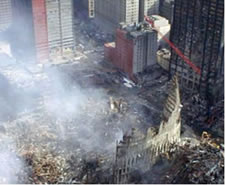 if it was safe to live in. This condominium inspected was in Manhattan and was as close to GROUND ZERO as one can get. The photo above shows the small 13-story building hidden under the 911 collapse dust cloud. This was probably the largest contaminated dust cloud ever created by man. Dust from this cloud contaminated the entire City of Manhattan. The next photo shows you the small building that was spared by the catastrophe. The third photo shows you what GROUND ZERO looked like on 9-9-06 from a Penthouse Balcony. It was interesting to see that the dust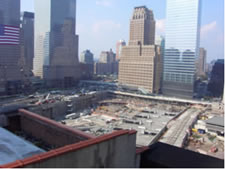 we sampled and tested was similar to the 911 dust some five years earlier. The following are only some dust results that were found during our forensic dust testing of this Manhattan condominium.
CONTENTS OF DUST

911 WORLD TRADE CENTER DUST  ON
9-11-01 Government data from the internet

9-9-06 our testing of the back stairwell in this condominium unit.

ASBESTOS

YES (Fireproofing)

YES

LEAD

YES (Paint)

YES

Fibrous Glass

YES (Insulation)

YES

Mineral Wool

YES (Carpets)

YES

Cellulosic: Processed

YES (Building Products)

YES

Rust (Iron Oxides) 3

YES (Metal)

YES

Paper Dust

YES (Office products)

YES

Paint Dust

YES (Latex Wall Paint)

YES

Starch

YES (Boxes etc.)

YES

Quartz

YES (Building Exterior / Windows, Tables, Countertops, Floors, Walls)

YES

Calcite/ Dolomite

YES (Building Exterior / Drywall Interior Finishes)

YES

Gypsum/ Anhydrite

YES (Drywall, Plaster)

YES

Clay & Feldspars

YES (Fixtures and other products, Interior Finishes)

YES

Mica

YES (Glass and other products)

YES

Unidentified: Inert Organics

YES (Carbon, Black Carbon, possible bone type)

YES

Unidentified: Inorganic

YES (Many others)

YES
Do you think maybe the dust we found in a Ground Zero condominium stair well came from the World Trade Center collapse five years ago?
| | | |
| --- | --- | --- |
| | The 38 page report can be viewed in this PDF file | |
WHAT ARE SOME BAD DUSTS? 
ASBESTOS DUST: Asbestos dust comes from boiler pipes, drop ceilings, insulation, plaster joints, fireproofing, floor tiles, roof shingles, siding and more. Possible health hazards from long-term exposure to asbestos dust can cause lung scarring, lung cancer, and mesothelioma. We find asbestos in many of our inspections. Millions of older homes have basement hydronic heating systems that still have friable asbestos insulation. This insulation is usually in locations where people frequently visit. Millions of homes also still have asbestos flooring, roofing, siding, and insulation. It is now a known fact the over 20 million homes have Vermiculate attic insulation. It is also a fact, that Vermiculite insulation may contain asbestos. People are being exposed to Vermiculite every time they enter their attic.People are being exposed to Vermiculite every time they enter their attic. To learn more about the dangers of this exposure,  http:mesothelioma.net/ has an abundance of resources
In our Ground Zero dust testing on 9-9-07 we found Chrysotile Asbestos in our dust testing samples. The WTC towers were built from 1968 to 1972. Hundreds of tons of slurry mixture of Chrysotile asbestos and cement were sprayed on WTC as fireproofing material. A region of several square miles was blanketed by fine powder resulting from the explosive collapses of the Twin Towers. This powder consisted of the pulverized remains of the Towers. This dust contained significant percentages of asbestos. (ASBESTOS TESTING)
LEAD DUST: Lead is a heavy metal. It was used in many materials and products before the risk to young children was known. Lead is a toxin (poison) that can harm young children. Children 6 years old and under are most at risk because their bodies are still developing. A young child's exposure to lead can cause learning and behavior problems and possibly damage their brains, kidneys, and other organs. Lead enters the body when children breathe lead dust or lead fumes, or swallow something with lead in it. Young children often put things in their mouth creating a way for lead to enter the body. Lead exposure in young children can diminish their IQ's by as much as 10 points. You need to wonder why crime rates and drop-out rates are so high with young adults in our inner cities. The fall of the Greek and Roman Empires was the ultimate result of lead poisoning. Certain products such as building paints used before 1978, lead solder used in plumbing, and leaded gasoline were used before their harmful health effects were recognized.
In our Ground Zero dust testing we found lead dust. The WTC Towers were built in 1968-1972. Lead was used in many of the building products. (Marko Vovk performs lead clearances, lead assessments and lead consulting.)
FIBROUS GLASS DUST: Fibrous glass is manufactured fibers made of glass. There are two types of fibrous glass we can test for: continuous filament glass being one and glass wool being the second. Continuous filament glass is used to make fiberglass fabrics that reinforce plastics, foams, and other materials in boats, automobile bodies, and other products. (A family member died of cancer at age 32. Coincidently, they hand-made and sanded fiberglass kayaks in lower level of their home). Glass wool is the principal material in fiberglass insulation widely used in U.S. houses and buildings. (Why do we store things in our attics? Attic access ladders should be banned.) Fibrous glass belongs to a larger group of materials called synthetic vitreous fibers. Rock wool and slag wool are also synthetic vitreous fibers. They are made from rock or slag (a by-product of smelting processes) by a process similar to that used to make glass wool.
In our Ground Zero dust testing we found fibrous glass dust. The tall Trade Center Buildings had hundreds of tons of glass that disintegrated and became airborne. Glass dust is like breathing in a thousand little miniature knives that stick and stay in your lungs. Ambassador performs Silica air and dust testing.
UNIDENTIFIED INERT ORGANICS: The particles included in this category consist of particles with carbon-based composition. They are inert and do not react with the surrounding media and generally cannot be isolated for individual identification. A more descriptive term might be "Organic Dust", which may include degraded skin fragments, carbon black particles, cellulosic or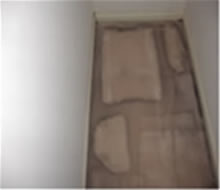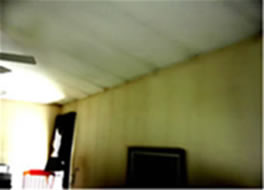 polymeric remnants, bone fragments etc. However, they are typically fragments from other larger materials. Sometimes they are created from combustion byproducts such as candle burning. Burning candle causes airborne black carbon. This airborne carbon black plates out and causes major house stains. Poor fireplace draft, water heater spillage, furnace flue spillage, and car exhaust all can cause indoor airborne black carbon, not to mention carbon monoxide. In the upper photographs, one can see the plate-out on walls, ceilings, and carpets.
In our Ground Zero dust testing we found Organic Dust. Organic dust can also be crushed and pulverized human remains.
UNIDENTIFIED INORGANIC: These particles included in the category consist of particles that do not have carbon as a main component. They are usually a mixture of substances and they could not be isolated for individual identification. However, they are typically fragments from other materials. UNIDENTIFIED INORGANIC compounds generally require additional forensic laboratory analysis.
In our Ground Zero dust testing we found Unidentified Inorganic Compounds.
OTHER DUST CONTAMINANTS: Other assorted fibers, synthetics, dander, skin, hair, mites, mite fecal pellets, mold allergens, bacteria, rodent allergens, insects, fragments, pollen, fragrances, material outgas, formaldehyde, arsenic, other metals and much more can found in house dust. Let us test your dust.
DUST IS LIKE A BOX OF CHOCOLATES, YOU NEVER KNOW WHAT YOU'RE GOING TO GET.
Sample PDF REPORTS
These are not the full reports. Our full reports include photos, explanation of laboratory results, and executive summary. You can download these files for your viewing. The last file is a full 38 page dust inspection.
For more information, please download the following sample reports:

Laboratory Full Particle Dust ID (This is seven page documents)

N/A

Laboratory Silica Air Test (This is three page documents)

N/A

Laboratory Asbestos Air test (This is one page document)

N/A

Laboratory Asbestos Bulk Test (This is one page document)

N/A

Laboratory VOC's Test (This is a five page document)

N/A

Laboratory Lead Dust Test (This is two page documents)

N/A

Sample Ground Zero report with photos 38 pages

The above documents are in Adobe PDF format.
If you don't have the Acrobat Reader you candownload free from Adobe.

.
WHY TEST THE DUST?
Will help in determining how to clean the home. Certain contaminants will require certain protocols. Lead, Asbestos, Silica will all require negative air during cleaning and proper worker protection.
Will help medical professionals in deterring treatment type; help identify potential allergens, and assist doctors during autopsies.
Will help in determining the type of HVAC filtration needed.
Will help identify if a home is safe, sound and sanitary.
Will help identify if dust type is harmful.
Will help identify if contractors performed proper acceptable construction work. This would include and not be limited to: mold, asbestos, lead, and fire contractors. The home should be dust free when these contractors leave.
Will help determine if contractors properly conducted final new home construction cleaning.
Will help determine if ductwork is clean.
Will help with environmental clearance testing.
Will help during residential forensic investigations.
Will help assist the expert witness during testimony.
Dust is like a finger print of your home. All homes have different dust content. No two dust contents are alike. You cannot change the finger print on your hand, but you can change the fingerprint of your home.
Find out what's in your dust. Please call Ambassador at 216-431-8378 (office), or 216-924-8378 (cell).
To learn more about the dangers of exposure,  http:mesothelioma.net/ has an abundance of resources.
For Your Dust Test, Call Marko Vovk
216-924-TEST