Marko E. Vovk is state licensed to perform radon testing and consulting in the state of Ohio. Real-estate transaction radon tests take two-three days to complete. You will receive a report in the mail soon after testing is complete.
DID YOU KNOW?…
Radon is the second leading cause of lung cancer.
Nearly one in 15 homes in the U.S. has a high level of indoor radon.
The U.S. Surgeon General and EPA recommend all homes be tested for radon.
Homes with high radon levels can be fixed.
WHAT IS RADON?
Radon is a cancer-causing radioactive gas. You cannot see, smell or taste radon but it may be a problem in your home. When you breathe air-containing radon, you increase your risk of getting lung cancer. The Environmental Protection Agency (U.S. E.P.A.) and the Surgeons General's Office have urged widespread testing for radon. They estimated that as many as 20,000 lung cancer deaths are caused each year by radon. Next to smoking, radon is the second leading cause of lung cancer in the United States today.
Free easy way to lower radon gas

HOW DOES RADON GET INSIDE BUILDINGS?
Radon is a gas and it easily drifts upward through the ground to the Earth's surface. The amount of radon gas that reaches the Earth's surface depends on the uranium content of the underlying earth materials together with their depth and permeability. This is why one geographical area can have more radon the other geographical areas.
Cleveland's west south and east sides all have areas with upper levels of radon. Radon testing in the Ohio region is advised. Radon usually enters at the lowest level of a building (basement, crawls or slab) using whatever pathways are available.
For structures with basements or slab-on-grade foundations, the entry points include (1) cracks, pores and holes in floor slabs, walls, and floor-wall joints; and (2) openings around sump pumps, floor drains, and pipes penetrating floors and walls.
The amount of radon entering a building depends not only on the existence of entry points, but also on the mechanical and other design characteristics of the structure. Newer homes are more prone to radon because they are tighter and do not leak air as much as older homes.
Most radon is drawn into buildings by the "stack effect". This effect is greatest during the colder parts of the year when buildings are closed up. The stack effect is increased by the use of exhaust fans, air distribution blowers, and clothes dryers and more. If your HVAC unit has cold air return duct leakage (90% of all home have this condition), it can contribute to higher radon levels.
During the warm months when buildings are either open or well ventilated through air conditioning, the indoor radon levels are largely determined by geologic rather than mechanical factors. Testing for radon during both seasons is advised.
Certain studies show that radon levels in the living areas of the houses are about 1.6 times higher in the winter than in summer. The annual average radon level in basements is approximately 2.5 times higher than it is on the first floor. Slab and crawl space home are also susceptible to above conditions.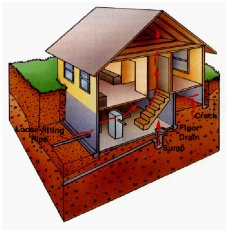 It was also found that well-weatherized (tight) houses have average radon levels about 1.4 times higher than poorly weatherized (drafty) houses. The reasons for these differences are easy to understand. There usually is more radon in basements because that is where radon enters a house. Radon levels usually are higher during the cold months when the stack effect is greater and indoor/outdoor exchange is very low (especially in newer or tight homes). In nearly all cases, indoor radon is derived only from the earth materials that are below the home. Radon can also come from the construction materials if uranium-enriched rock is used for fireplaces, kitchen counters, field-stone walls, in concrete aggregate, or from private well water if it is drawn from an uraniferous aquifer. Radon testing is prudent. Period!
I already have a radon system should I test anyway?
Yes! you should test because, many early systems were not properly installed. Many times, the radon systems installed are not working and you may be purchasing a false sense. You health and well being may be jeopardized. The home owner gave me a test that states no or low radon. Retesting is still recommended. You do not know the conditions of the home when these other tests were done. Home owners can open window, or pressurize the basement and have low radon results. You need your own radon test.
House Talk Volume 1 Part 4 radon HVAC dehumidifier air filter sump pump crawl space pressure

For more information, please download the following EPA Pamphlets:

A Citizen's Guide to Radon The Guide to Protecting Yourself

A Physician's Guide – Radon The Health Threat with a Simple

Consumer's Guide to Radon Reduction

Home Buyer's and Seller's Guide to Radon

Radon in Schools (2nd Ed.)

 
The above documents are in Adobe PDF format.
If you don't have the Acrobat Reader you candownload free from Adobe.

.
So, You Found Radon In Your Home.
What Should You Do?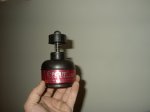 Radon Test Canister
First,radon is everywhere and fixing a radon problem isvery straightforward.
Second, if you have performed only a single test, the US EPA recommends a follow up test before fixing your home. Radon levels fluctuate naturally and it is important to know if the initial test was an accurate assessment of your home's average radon level or whether the high levels could have been caused by unusual weather.
HOW TO FOLLOW UP
Your First Test.If your first test has a result between 4 and 10 pCi/L, you have the choice of testing again with a short-term (Typically 2-7 days ) device if results are needed quickly or a long-term (Typically 3-12 months) device for a better understanding of the year-round average.
INTERPRETING YOUR FOLLOW UP RESULTS.
If you are involved in a real estate transaction, the EPA guidance is to have the house fixed prior to sale if the average of your tests exceeds 4.0 pCi/L.
If you chose a long-term device for your second test, the EPA guidance is to fix your home if the levels exceed 4.0 pCi/L.If the results of your follow-up test with a short-term test still exceeds 4.0 pCi/L, you are urged to consider having the house fixed.
If your follow-up test results are below the 4.0 pCi/L EPA action level, you should test again sometime in the future because your initial test has shown that your house has the potential to produce high radon levels at times.
OK, I'M READY TO TEST. WHAT CAN I EXPECT?
Information provided by The National Environmental Health Association National Radon Proficiency Program
The EPA publishes a number of informative documents about radon for consumers. We have provided download capabilities on this site to obtain these documents.
EPA'S TESTING CHECKLIST
Follow this checklist carefully so that you get the most accurate radon test results.
Radon testing is not a complicated process, but must be done properly. Otherwise, the test results may not be accurate and more testing may have to be done. Disturbing or interfering with the test device or closed-house conditions will invalidate the test results.
The seller, or a NEHA NRPP or state certified tester, should be able to confirm that all the items in this checklist have been followed. If the tester cannot confirm this, another test should be taken.
1. Before the radon testing:
| | |
| --- | --- |
| | Notify occupants of the importance of proper testing conditions. Give occupants written instructions or this document and explain the directions carefully. |
| | If you conduct the test yourself, use a radon measurement device listed by EPA's Radon Measurement Proficiency (RMP) Program or certified by your state and follow the manufacturer's instructions that come with the device. |
| | If you use a testing professional, only hire a NEHA or state certified individual and ask to see his or her photo identification. The contractor's identification number should be clearly visible on the test report. |
| | The test should include method(s) to prevent or detect interference with testing conditions or with the testing device itself. |
| | Conduct the radon test for a minimum of 48 hours. Certain devices must be exposed for more than the 48-hour minimum. |
| | Check to see if an active radon reduction system is in the house. Before taking a short-term test lasting less than 4 days, make sure the fan, if any, is operating at least 24 hours before the beginning of the test. |
| | EPA recommends that short-term radon testing, which lasts for no more than a week in length, be done under closed-house conditions. Closed-house conditions means keeping all windows closed, keeping doors closed except for normal entry and exit, and not operating fans or other machines which bring in air from outside. Note that fans that are part of a radon reduction system, or small exhaust fans operating for only short periods of time, may run during the test. |
| | When doing short-term testing lasting less than 4 days, it is important to maintain closed-house conditions for at least 12 hours before the beginning of the test and for the entire test period. Do not operate fans or other machines which bring in air from the outside. |

2. During the radon test:
| | |
| --- | --- |
| | Maintain closed-house conditions during the entire time of a short-term test, especially for tests sorter than one week in length. |
| | Operate the home's heating and cooling systems normally during the test. For tests lasting less than one week, only operate air conditioning units which recirculate interior air. |
| | Do not disturb the test device at any time during the test. |
| | If a radon reduction system is in place, make sure the system is working properly and will be in operation during the entire radon test. |

3. After a radon test:
| | |
| --- | --- |
| | If a high radon level is found, fix the home. See the Home Buyer's and Seller's Guide for recommendations for steps such as contacting a qualified radon reduction contractor to lower the home's radon level. |
| | Be sure that you or the professional radon tester can demonstrate or provide information to ensure that the testing conditions were not violated during the testing period. |
The EPA's Consumer's Guide To Radon Reduction Provides The Following Guidelines For Radon Mitigation:
HOW TO SELECT A CONTRACTOR
Get Estimates!
Choose a contractor to fix a radon problem just as you would choose someone to do other home repairs. It is wise to get more than one estimate, to ask for references, and to contact some of those references to ask if they are satisfied with the contractors' work. Also, ask your county or state consumer protection office for information about the contractors.
Use the following checklist when evaluating and comparing contractors and ask the following questions:
| | |
| --- | --- |
| | Will the contractor provide references or photographs, as well as test results of 'before' and 'after' radon levels of past radon reduction work? |
| | Can the contractor explain what the work will involve, how long it will take to complete, and exactly how the radon reduction system will work? |
| | Does the contractor charge a fee for any diagnostic tests? Although many contractors give free estimates, they may charge for diagnostic tests – these tests help determine what radon reduction system should be used, but are not always necessary. (See the booklet for more information on diagnostic tests.) |
| | Did the contractor inspect your home's structure before giving you an estimate? |
| | Did the contractor review the quality of your radon measurement results and determine if EPA testing procedures were followed? This is a requirement of the program! |
Compare the contractors' proposed costs and consider what you will get for your money. Take into account the following: a system that is less expensive to install may have higher operating and maintenance costs than a system that is more expensive to install; the best system for your house may be the more expensive option; and the quality of the building material will effect how long the system lasts.
DO THE CONTRACTORS' PROPOSALS AND ESTIMATES INCLUDE:
| | |
| --- | --- |
| | Proof of liability insurance and being bonded and licensed? |
| | Proof of state or NEHA certification? |
| | Diagnostic testing prior to design and installation of a radon reduction system? |
| | Installation of a warning device to caution you if the radon reduction system is not working correctly? (A program requirement.) |
| | Testing after installation to make sure the radon reduction system works well? (A program requirement.) |
| | A guarantee to reduce radon levels to 4 pCi/L or below, and if so, for how long? |
THE CONTRACT
Ask the contractor to prepare a contract before any work starts. Carefully read the contract before you sign it. Make sure everything in the contract matches the original proposal.
The contract should describe exactly what work will be done prior to and during the installation of the system, what the system consists of, and how the system will operate.
Important Points on a Contract:
| | |
| --- | --- |
| | The total cost of the job, including all taxes and permit fees; how much, if any, is required for a deposit; and when payment is due in full. |
| | The time needed to complete the work. |
| | An agreement by the contractor to obtain necessary licenses and follow required building codes. |
| | "A statement that the contractor carries liability insurance and is bonded and insured to protect you in case of injury to persons, or damage to property, while the work is being done. |
| | A guarantee that the contractor will be responsible for damage and clean up after the job. |
| | Details of warranties, guarantees, or other optional features, including the acceptable resulting radon level. |
| | A declaration stating whether any warranties or guarantees are transferable if you sell your home. |
| | A description of what the contractor expects the homeowner to do (e.g., make the work area accessible) before work begins. |
Carefully consider optional additions to your contract which may add to the initial cost of the system, but may be worth the extra expense.
Typical options might include a guarantee that the contractor will adjust or modify the system to reach the promised radon level, or, an extended warranty and/or a service plan.
 
For Your Radon Test, Call or text Marko Vovk
216-924-8378 (TEST) or email at clevelandmold@aol.com