Marko Vovk conducts Residential Forensic Investigations.
src="http://houseinvestigations.com/images/moisture/image002.jpg" alt="" width="237″ height="178″ align="right" border="1″ hspace="15″ vspace="2″ />FORGET THE MOLD.
FIND AND CORRECT THE MOISTURE!
If you smell mold or see mold you pretty much have mold.
Ambassador Construction Consultants, LLC. is a Cleveland based home inspection and building inspection-consulting firm. Our goal is to prevent and resolve problems related to building moisture infiltration, build envelope failure, interior excessive humidity, improper building construction and other conditions that cause moisture. Our experience lies in understanding the complexity of today's homes and buildings. We specialize in "building science" "the study of the interactions between the various materials, products, and systems used in building construction, the occupants of these buildings, and the environments in which they are located". (1. Building Science Corp.)
| | |
| --- | --- |
| |   |
CHECK OUT OUR INFRARED SECTION.
Ambassador Construction Consultants, Inc. implements the state-of-the-art testing equipment to your moisture concern locations. We are one of the only inspection firms in the state of Ohio that implements the use of infrared imaging within all our inspections. This equipment and other equipment make Ambassador Construction Consultant's Inc. the best in the testing and documentation of all moisture conditions. We will indentify and provide solutions to all moisture conditions. 
WE GUARANTEE THAT!
---
---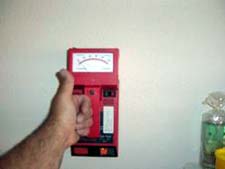 Our field consultant is a BUILDING SCIENCE ENGINEER with over 8,000 inspections under his belt.
Moisture can cause serious damage to the structure of your home. Moisture causes more than $1 billion in damage to homes annually, from minor damage like peeling paint, to major damage, such as rotting, crumbling structural floor joists. (This is not the same $1 billion damage caused by wood boring insects. See our termite and pest section of this web site.)
CHECK OUT OUR SAMPLE STUDIED REPORTS BELOW IN PDF FORM.
You can greatly reduce the cost of moisture damage in your home and eliminate the risk of structural loss if you learn how to control moisture. Ambassador will provide you with this valuable information. It is important to control all sources of moisture that enters homes. Ambassador will provide you with this information. Most moisture that is generally known to cause problems in homes is roof leaks, basement leaks, and plumbing leaks. These three types of leaks are the most obvious. Less obvious moisture infiltration sources are as follows:
1. Rainwater
2. Groundwater
3. Capillary suction below grade
4. Capillary suction above grade
5. Air movements
6. Air pressure
7. Vapor diffusion
Ambassador Construction Consultations Inc understands these driving forces of moisture that damage homes. For the full 20-page chapter that comes form Marko E. Vovk's Nationally sold book and best seller among home inspectors through the country, "The Illustrated Mold Handbook" describes all the above moisture infiltration conditions Please download this file 

.
Our moisture inspections are the best. We will tell you why and where you have moisture problems. We will tell you how the moisture condition occurred and if it will re-occur. During our investigation, we implement state-of-art testing with calibrated and certified equipment. We take digital and infrared images and other non-destructive tests. Photos, infrared images, results, and conclusions are all put into our expert color report. We can put reports into power points, PDF's or other presentation forms for additional fees.
Mold remediation should not be done until a forensic moisture mapping investigation has been completed.
Many times forensic testing is needed to properly identify the source. Marko E. Vovk from Ambassador Construction Consultants Inc. is an experienced Building Science Engineer and will identify, explain and direct.
The following are several sample report samples in PDF format that you can open or even download for later reading.

ATTIC MOISTURE / MOLD SAMPLE (ACTUAL INSPECTION – 8 PAGES)

ATTIC MOISTURE / MOLD SAMPLE FROM SUMP PUMP (ACTUAL INSPECTION 8 PAGES)

MOISTURE AND MOLD CAUSED BY VENTLESS HEATER (ACTUAL INSPECTION 8 PAGES)

MOISTURE AND MOLD CAUSED BY FAILED DUCTWORK UNDER THE SLAB IN A CONDOMINIUM (ACTUAL INSPECTION 10 PAGES

 
The above documents are in Adobe PDF format.
If you don't have the Acrobat Reader you candownload free from Adobe.

.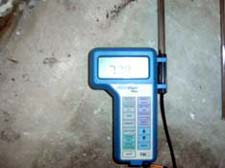 We will moisture map the entire home for room temperature, room humidity, surface temperatures, and moisture content. Approximately 100 plus different readings will be taken and documented on field notes. We will implement the use of a sling psychrometer for baseline testing results and the digital hygrometer for the actual data collection. All surface moisture mapping is conducted using the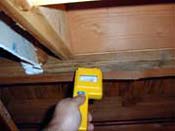 Tramex moisture-testing gauge and an infrared laser. We will also implement the use of a Thermo-Imaging Camera and other diagnostic testing devices as needed. All values are represented in mathematical terms and graphed to determine the potential cause of fungal development and amplification. We will present our findings and conclusions in laymen's easy to read format.
Call Marko E. Vovk At:
216-431-TEST (DOWNTOWN OFFICE)
216-924-TEST (CELL PHONE IN THE FIELD)